The IMT tries to answer your questions and concerns as quickly and appropriately as possible and offers various channels for contacting you.
You can reach us by e-mail at any time, by phone and in person during service hours.
E-mail:
imt@upb.de
Phone:
Support hotline: (05251) 60-5544 (Monday to Thursday from 8:30 to 16:00 h, Friday 8:30 - 14h)
Service Center Media: (05251) 60-2821
Personal:
IMT User support (I0.401)
Service Center Media (H1.201)
Remote maintenance:
You can make use of the remote maintenance support of the IMT: You allow an IMT employee to view your screen in his or her browser and to maintain your computer from his or her workstation using mouse and keyboard. You have to contact the employee by phone beforehand.
Processing time:
We always try to take care of your concerns as quickly as possible. Please note, however, that due to the daily business standard requests can take up to three days to process.
TeamViewer-QuickSupport Download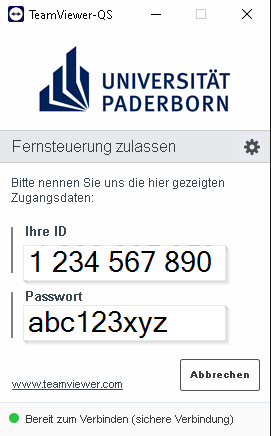 By downloading, you consent to the associated data processing.